Montag, den 21. Dezember 2015 um 00:00 Uhr
KInder der Schule stellen sich vor #5

Wir haben ein neues Projekt ins Leben gerufen und möchten hiermit einige Schüler der Migros KIDS Schule in Indien /Tirupur vorstellen. Jedes Kind hat die Möglichkeit einen kleinen Text mit Foto zu verfassen, sich selbst vorzustellen und eigene Zukunftswünsche zu formulieren. Die Kinder freuen sich bei diesem Projekt mitmachen zu dürfen und sind schon ganz gespannt auf die Reaktionen aus aller Welt.

Wir danken den SchülerInnen für ihren Einsatz und wünschen viel Spaß bei den kommenden Berichten!
Frohe Weihnachten und ein wunderbares Jahr 2016!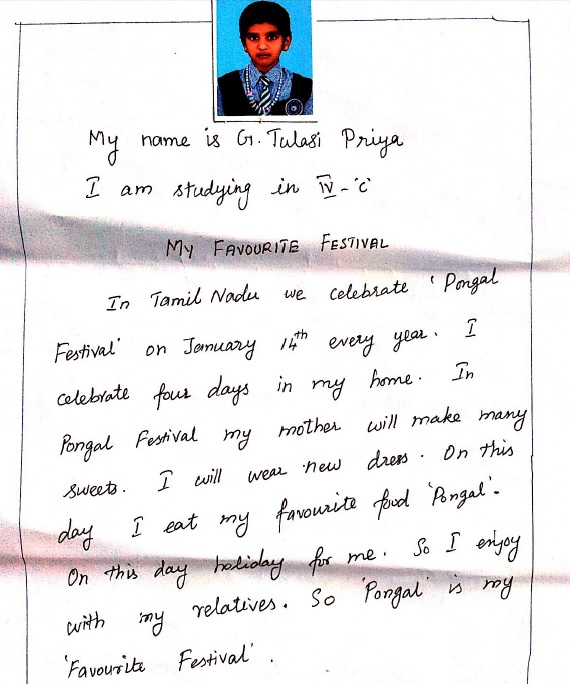 Migros KIDS' students present themselves #5:


My name is G. Talasi Priya. I am studying in IV-c.

My favorite festival:
In Tamil Nadu we celebrate "Pongal" Festival on January 14th every year. I celebrate four days in my home.
In Pongal Festival mother will make many sweets. I will wear new dress. On this day I eat my favorite food "Pongal".
On this day holiday for me. So I enjoy with my relatives. So "Pongal" is my "Favorite Festival".


Willkommen
...auf der Website von KIDS e.V.
KIDS e.V. is a non-commercial organisation and stands for Kids In Deficient Situations. The main fields of activity are basic and further education for children from poor backgrounds. The organisation maintains a Schule and a Day-Care Center for children from textile worker families in Tirupur, a city in South India. Read more...
---
Neue Artikel